Yoga Retreats in Dharamshala and Gokarna
For those looking for a place to relax, practice yoga and meditation in a calm, spiritual environment, Shree Hari Yoga School offers Yoga Retreats with the beginning of 3 days up to 1 month.
Participation in our retreats gives you the opportunity to take time out from your daily responsibilities so you will be able to return to them with renewed vitality. Yoga asana, meditation, philosophy and mantra sessions in our peaceful environment will allow you to cultivate a deep awareness of your body and mind.
You will get to understand the yogic way of life and that could lead you to discover that yogic practice is what you were waiting for all this while to transform your life into something more meaningful.
One location is in Gokarna, South India. It is tucked just behind a tranquil beach on the Indian Ocean, bordering the lush vegetation of the jungle. We also have centers in the spiritual Himalayas. A perfect place for Yoga and Ayurveda Retreats, with Living Yoga and Ayurveda as a lifestyle in a Yoga school in the home place of Dalai Lama, India. And we bring India and our holistic Yoga knowledge to Europe. Find our school in a beautiful village in the heart of Germany, near to Berlin.
In all locations, you will be isolated from the hustle and bustle of daily life. We offer you the optimal conditions to quieten the chatter of the mind and re-discover your inner positivity.
Your stay at the Yoga school includes:
Clean, comfortable room (*hot water/bathroom/Western toilet/sheets/pillows/blankets) *shared double or single occupancy  (*hot water is not in Gokarna available/choose if you want a shared double or single room)

per choice 3 healthy and delicious vegetarian meals per day (Monday – Saturday)

Unlimited purified water

Participation in regular yoga classes and fire pujas

Use of a yoga hall

Participation in evening programs (music/kirtan Every Day)

WI-FI internet 
Yoga is a way of living. An ancient art that goes far beyond the practice of asanas – postures. It is a philosophy that goes back to the times before the religions existed more than 2,000 years ago. It is a philosophy that talks about the union. It talks about the union between all human beings and also about union with a greater energy that itself connects us all. Below is a summary of the philosophy of yoga and during your stay at our Shree Hari yoga school, we want to give you the best teachings of the philosophy of yoga that we have learned on our many life journeys and studying with the most respected teachers of yoga in the world.
Branches of Yoga the student may practice
The Yoga of wisdom (Jnâna-Yoga)
The Yoga of meditation (Râja-Yoga)
The Yoga of physical processes (Hatha-Yoga)
The Yoga of service (Karma-Yoga)
The Yoga of devotion (Bhakti-Yoga)
Basically, what Westerners view as "Yoga" is primarily the practice of asanas (exercises) and breathing techniques.
Through continuing dedication to the practice of yoga, the practitioner will begin to engage with the many other elements of yoga. Far beyond any workout routine, and begin to view their lives in a more proactive state and become less reactive.
They will find an inner peace that will radiate outwards and life will become one of greater joy and experience.
The exercise of Yoga begins on a conscious journey to discover what simply is. Who are you? And what you can become?
What can you learn?
Create your own individual Yoga retreat, choose your days & hours per day you want to learn, tell us your duration of time you can spend with us or choose from our Yoga retreat packages below. Write us directly an email to create your individual Yoga retreat at namaste@shreehariyoga.in 
Yoga Asana
Traditional Hatha Yoga
Ashtanga Yoga (LED & Mysore style)
Restorative and Yin Yoga
Vinyasa Yoga
*Yoga therapy
*Acrobatic Yoga
Meditation
Active & passive meditation
Guided meditation
*Cyclic meditation
*DRT, QRT, MSRT
Trataka meditation
Yoga Nidra
Japa meditation
Pranayama – As you want to master your mind and emotions, pranayama is important to retain your senses from the world outside to yourself inside. You will learn how to master your life force energy with help of breathing practice, activating energy streams within the body.
Philosophy – Learn the meaning of Yoga and it's ethics in its literal, Post-Classical sense. Yoga means "union", and is derived from the Sanskrit root word yuj, meaning "to yoke" or "to unite." Hence, Yoga reunites all opposites – mind & body, stillness & movement, masculine & feminine, active & passive energies – in order to bring peace & balance between them. You can learn with us famous yoga concepts from:
Patanjali's Yoga Sutras and it's Ashtanga Yoga (eight limbs of yoga)
The Bhagavad Gita, the essence & its meaning
The Hatha Yoga Pradipika content
*Satsang  – Group discussion  &  *Kirtan – Music of love (Mostly as a combination)
Mantra – The power of Sanskrit sound
Shatkarma & Kriya – Cleansing techniques
*according to teacher availability during the time period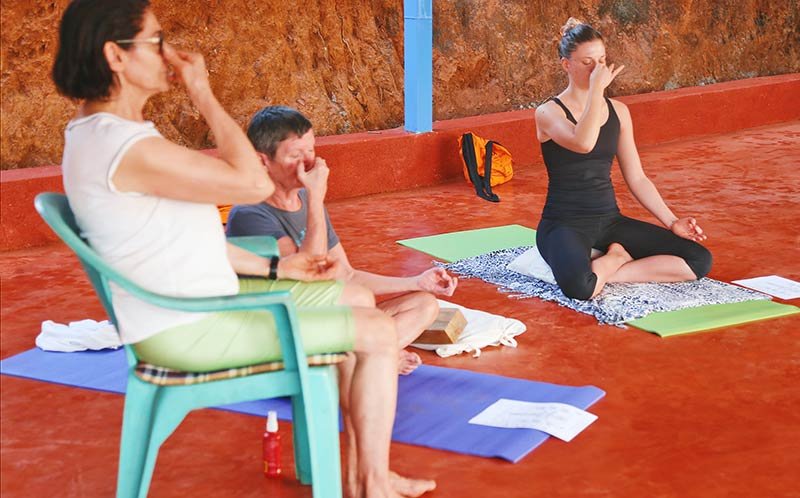 >>Every person has at some time had an intuitional glimpse of truth as a " hunch", an inner feeling of conviction that has proved to be right.
When this innate power of knowing is developed by calmness and meditation into the pure, unerring intuition of the soul, the devotee has access to the library of all wisdom contained right within himself in the subtle cerebrospinal seats of life and consciousness.
An advanced YOGI, who in samadhi meditation has withdrawn his consciousness and life force from the realm of the gross body and senses, enters that inner world of wisdom revelations.
He becomes aware of the seven sacred altars of Spirit in the spine and brain and receives all knowledge emanating from them.
Thus in tune with truth through intuitive soul perception, he knows invariably the correct guidance for all aspect of his spiritual and materially dutiful conduct.
Paramahansa Yogananda, YSS