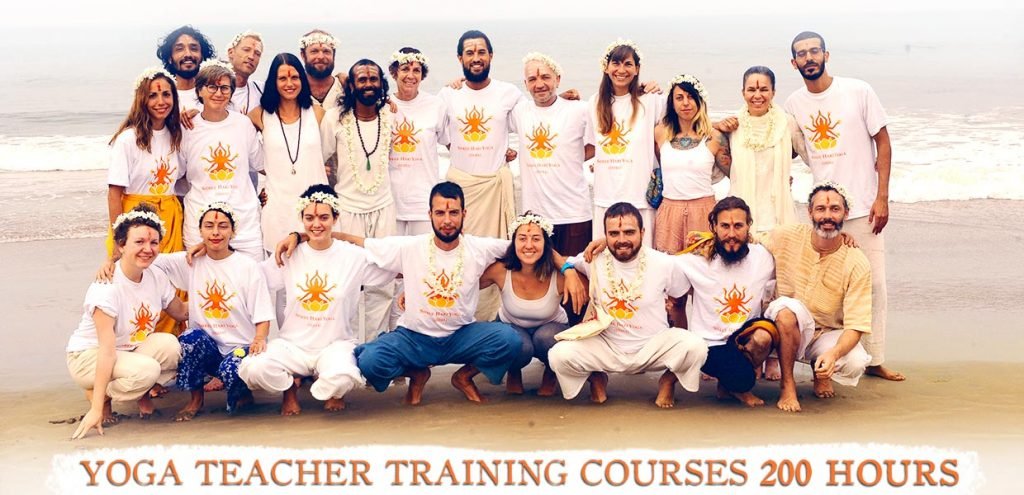 At Shree Hari Yoga School, you will experience a holistic multistyle teacher training in all aspects of yoga, from yoga asana and pranayama to meditation, philosophy and mantra. We aim to guide your way as an yoga teacher as you deepen your practice, develop your confidence and feel the transforming effects the yogic lifestyle can bring.
The 200hr Teacher Training Course (200-hour YTTC) is an intense and hugely rewarding month. It is designed for those who are beginners or practice not regularly and want to develop and deepen their yoga practice and knowledge.
Our training is founded on the 4 streams of yoga.
Bhakti Yoga (union through love and devotion)
Kirtan – music of love

Mantra – experiencing the power of Sanskrit sound

Satsang – group discussion
Jnana Yoga (knowledge)
Philosophy

Anatomy

Art of Teaching

Ayurveda

Yoga Therapy
Karma Yoga (selfless action)
Raja Yoga (practice and self-discipline)
Asana (Hatha, Ashtanga & Multi Style yoga practice)

Pranayama (breathing practice activating energy streams within the body)

Meditation (a variety of active & passive meditations)
We also offer the opportunity to experience Shatkarma (Yogic Cleansing Techniques).
Accommodation and Food
Accommodation offered is simple but comfortable and clean, and close to the school. Our menu is healthy and energy boosting, made up of fresh, seasonal ingredients. We are serving food to our students three times a day, breakfast, lunch and dinner from Monday to Saturday. Sunday is for everybody holiday, also for our cooks. There you can check nice restaurants in your area and eat what ever you feel to eat. 😉
Teachers
We employ Indian and Western specialists in all fields, ranging from life-long yogis to yoga university graduates. Please click on the link below to learn more about our team.
More than just a qualification…
At the end of the month, you will hold an Internationally Certified Yoga Alliance 200hr Teacher Training Certificate. Your rigorous training in sequences and adjustments will inspire you to create your own teaching style.
More importantly, your body and mind will have been intensely exercised and expanded. At Shree Hari Yoga School, we aim to bring our students the motivation and tools to continue a life-long yoga practice.
WHAT SHOULD YOU PACK FOR YOUR YOGA TEACHER TRAINING?
What should you leave behind, what you should pack and what to buy on location?
When signing up for a yoga teacher training in India, deciding what to pack and take with you on this life-changing journey is a question we know you are concern about. We will give you some ideas what should you pack to travel to India and what you need in our YTTC or Yoga retreat.
My biggest tip would be that you pack light, Really! You can buy almost everything you need here in some form or another. But, if you feel like packing your backpack full of stuff, here are my most important items:
Clothes:
In India, there is a very different culture as compared to the west and it is important to obey and respect this culture. Modesty is a priority to ensure that you are covered up at all times, think more about longer trousers, nothing too low cut. Dependent also what time or season you come. Check the climate before you come. In Dharamshala, it can be really cold sometimes in the morning and evening.
For your opening havan (fire ceremony) you will need white clothes. If you get no time to buy in your YTTC or retreat location, better you bring it with you.
I always carry a very light scarf with me to cover up in busy or religious areas or for visiting a temple.
For Goa and Gokarna you don't need a towel to carry. But in Dharamshala bring a little towel if you reach late, otherwise, buy it near your place! There are many great Indian cotton towels, which are very cheap and lightweight.
However, when deciding what to pack from your wardrobe, I would suggest bringing only the essentials with you as within a matter of hours you will want to have purchased a pair of "Indian Pants" or a Kurta (shirt style long top with matching scarf). As far as yoga gear goes, you can pick up some fairly cheap baggies but I would recommend bringing two good pairs of leggings and supportive tops. High-end brands are not as easily available, as with the quality, so if you have a favourite style, bring that with you. But remember, in India most washing is done by hand, so don't pack anything uber-expensive as it may not survive the hand wash!
When practicing yoga at our yoga school, your teacher will mostly advise the class how covered up you should be. The level of your clothing may not matter much inside the yoga hall if it's really warm, but just remember to cover yourself properly before you leave the yoga shalla respect towards the staff and locals that may be around.
Cosmetics:
When you do a yoga retreat or yttc, leave all those pore-clogging cosmetics at home. Just bring your needed basics to see you through. You want also to visit the wonderful Ayurvedic shops and buy something more natural and authentic from India. Coconut oil is very inexpensive here and will work for almost anything so pick up a bottle. Makeup will not stay on too long due to the humidity and hardly anyone else will be wearing it so bring the basics. When you are pursuing something as wonderful and liberating as a yoga teacher training course, what you look like will the least of your concern and others too. Only a few things are harder to find in India like tampons for example, so pop a as much you need in your packing. Deo you will find a lot of self made and natural/organic in India. Many people sell it, mostly other long time traveler.
Yoga Gear:
Carrying a yoga mat can be a bit difficult especially when flying. That's why we offer you in our YTTC your own yoga mat. Otherwise, in Dharamshala, Gokarna, and Goa, where yoga schools and retreats are in abundance, you can usually pick up a good yoga mat for a couple of Indian rupees. However, if you prefer to balance on your mat with a conscience and opt for the eco-friendly variety, I advise you bring one from home. There are many shops that sell wonderful yoga accessories such as mat bags (always buy a side opening one with a pocket) alongside straps and blocks.
From Within:
Indian hospitality is very friendly; however, the standards are just not the same as the West, to ensure that you have an open mind and are up for the ride. Trust me, you will enjoy it and it will change you as a person. But do not arrive with any preconceptions; just be open to all new experiences.
When attaining a yoga teacher training you will meet many other people. Beginning with the staff at the school, your yoga teachers and your peers; all will have different expectations and experiences. Embrace them and learn from them.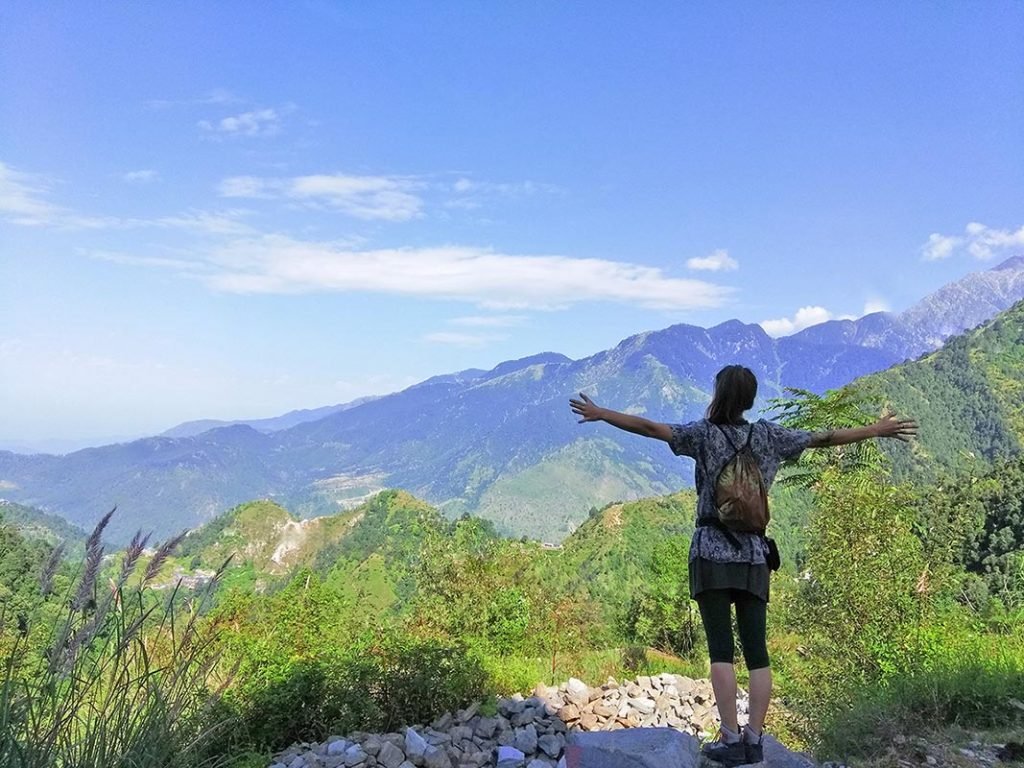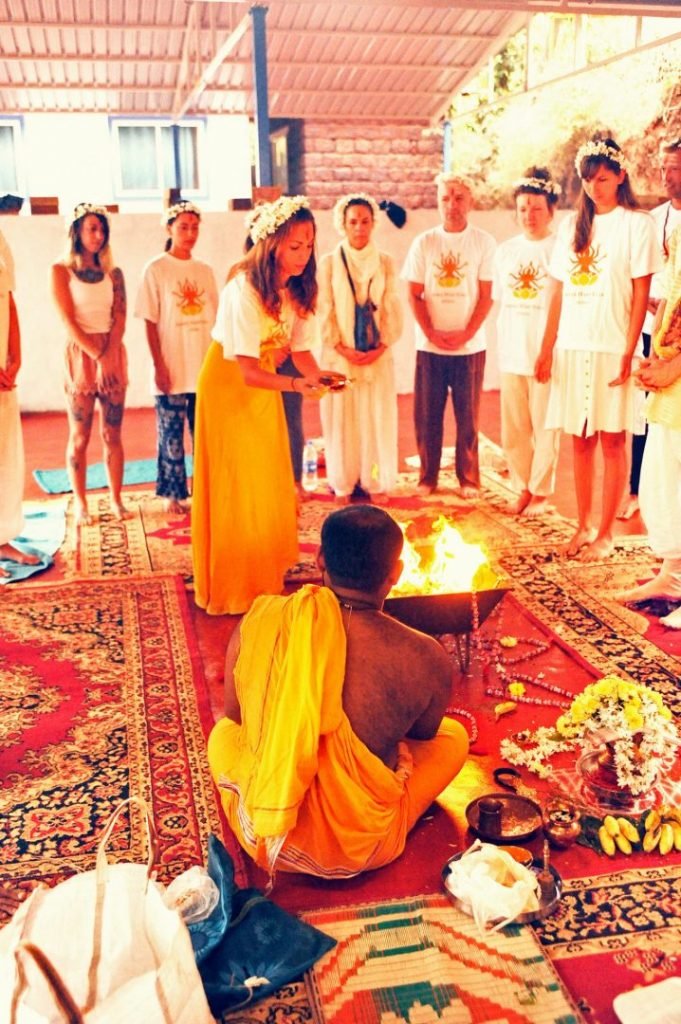 Upcoming 200 hour Courses 2018/19
Daily Schedule
From Monday to Saturday, mostly from 6:30am to 6:30pm you will have practical and theoretical classes. The time varies weekly.
Saturday you will have only half day classes and Sundays are your days off. Use this time to relax, study and enjoy your surrounding.
If you want an example schedule from our last Yoga teacher training please email us to namaste@shreehariyoga.in
Karma Yoga, a selfless service for everyone
​In the Week days you will be engaged in doing karma yoga voluntarily. This will be short time before your class or after in your free time during the teacher training. Karma Yoga, the Yoga of selfless action, will help you to learn and practice yoga holistically.
Check-in & Check-out
Please feel free to check-in any time from 10 am. The day is dedicated for you to settle in. We will hold an introduction and orientation opening ceremony for your information, followed by a welcome dinner from 5:30pm onwards.
On the last day we will hold a closing ceremony before your departure, where you will get your certificates. You can prepare everything to leave after it. We welcome any feedback at the end. Check-out time is 1pm, but you may join activities throughout the day as desired. We will hold your belongings safely.
Practical Workshops
Teaching under teacher's supervision
In pairs, small and big groups
Practical exam of teaching
Feedback
Drop-in classes teaching
volunteering as teacher possible after your YTTC