Why Goa for your yoga
Yoga offered in Mandrem beach, Goa is a pleasant option for beginner and experienced Yogis.
Parvati suits is a guesthouse set about 150 meters from the beach, and is the location where students can both relax, train and practice yogic principles and lifestyle. There should be no worry about sleeping at night restfully, as Mandrem has a 10pm quiet time policy through the night until morning.
The guesthouse Parvati suits has enough rooms to provide accommodation for studends who want to join with their family or friends. The big rooftop is prepared for our yoga classes and trainings to take place.
Food will be provided at the guesthouse, cooking and serving yogic, sattvic foods in favor to support and follow yogic principles on diet and practice. The activities in and around Mandrem, include a long, straight beach, perfect for walking, swimming and even surfing classes!
Mandrem, both on the beach and in the town, is less busy and more quiet than neighboring Arambol, so has been chosen for its atmosphere which is more supportive to a yogic and introspective living and learning.
Mandrem is a beautiful coastal town located north of Ashvem and south of Arambol, 21 km (13 miles) away from the capital Panaji in north Goa. The sparkling water and the isolated beach offers ample opportunities to enjoy this calm and soothing locality in peace. Mandrem, Ashvem and Morjim beaches are the attractions that should top the list of every visitor's itinerary.
Madrem is blessed with many natural gifts so ensure that you don't miss the nearby greenery. If you are up for a walk, head to a beach, such as Terekol beach, Vagator beach or Ozran beach. To get a feel of the area visit the Chapora Fortress in Vagator. Relive Goa's colorful past at Terekol Fort in Terekol. Whether you are a single or couple, if you are there for a day or week, Mandrem has something for everyone. You can go wind-surfing, water skiing, parasailing, Jet Ski or speedboat riding, motorbiking and so on. You can also engage in exciting and fun group activities such as the banana ride and bumper ride.
Shree Hari Yoga Center At Goa
After your Yoga practice or course, enjoy the surroundings of Ashvem beach.
Goa has a history with the Portuguese as a prior colony. One of the remaining elements of the Portuguese in Goa, is the Christian Church's, which have beautiful and unique architectures and atmospheres. But there are also beautiful temple around which are open for everybody.
ॐ Surfing at the Mandrem Beach
ॐ Banana ride and bumper ride
ॐ Arpora, Goa 6 pm until late night, very active colorful market.
ॐ Closest landmarks
Arambol Beach 

Popular areas 

2.7 km

Chapora River 

Popular areas 

6.9 km

Tiracol Fort 

Popular areas 

6.9 km

Chapora Fort 

Popular areas 

7 km

St. Michael's Church 

Monuments 

9.9 km

St. Cajetan's Church 

Landmarks 

10.4 km

Anjuna Flea Market 

Shopping areas 

10.7 km

Baga Night Market 

Shopping areas 

11.1 km

Saturday Night Market 

Shopping areas 

11.2 km

Club Cubana 

Popular areas 

11.5 km
Accommodation and Food
Shree Hari Yoga school in Goa is in the Parvati suits, which is situated in Mandrem and offers you the best place for Yoga. Rooms even have a terrace with table and space for your loundry. This apartment also has free WiFi.
The apartment also features a clean bathroom with a shower.
All accommodation offered are established with everything you need for your YTTC. A simple Kitchen, big cupboard, table, chair, washroom with shower and toilet and a huge bed. All rooms are big, comfortable, beautiful, safe, and clean. You are only steps away from the yoga shala and around 150m from the beautiful Mandrem beach.
You can book your room either shared for 2 persons or your own single room. These rooms are your perfect respite for rest and relaxation. The sheets are a crisp and clean. Sink into the comfortable mattress. Ahhh! When you open your door you'll see paradise.  Coconut palm trees blowing in the breeze and Indian woman in colorful Sari. The warm, salty breeze from the ocean will fill your soul with calmness.
The menu is healthy and energy-boosting. Enjoy local, fresh, seasonally-appropriate ingredients. Our food will give you the energy you need for the day. Enjoy sunset views from the roof in the evening or at the beach. Let us nourish your soul and fill your body with prana-supporting meals.
How to reach
Air:
Fly directly to Dabolim Goa airport. The airport is 1 hour and 30 minutes, or 56 km from Mandrem.
Train:
The nearest train stations to our location in Mandrem Beach is 23.6 km, Thivim Railway Station. 
Road:
Buses of all classes (deluxe, air-conditioned and regular) travel daily between Mandrem Beach and major Indian cities (Bangalore, Mumbai, Mangalore).
For more information and to plan your route here, please visit: https://makemytrip.com, or contact us using the information below.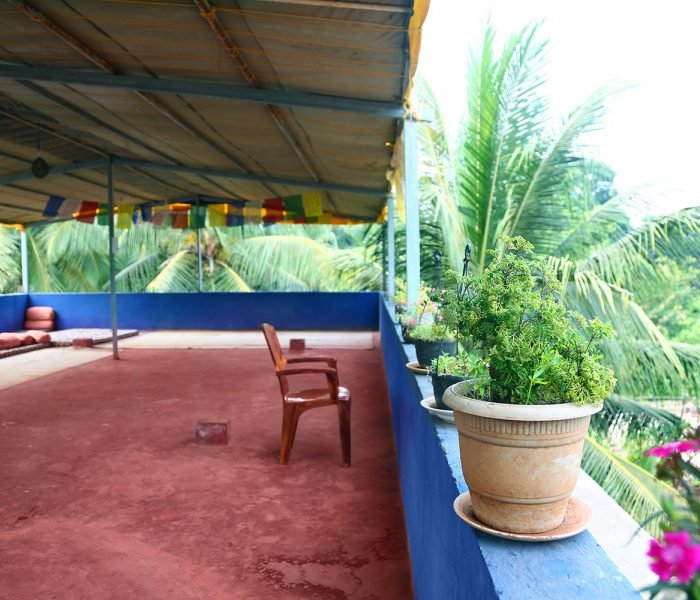 Upcoming 200 hour YTTC Goa
Upcoming 300 hour YTTC Goa
200HR - Most Popular
VIP Ticket
$2,900 USD
Yoga course fee (200HR)
PRIVATE accommodation
3 meals on full class days
Teaching material
WI-Fi / internet
T- Shirts
Bags
Note Pads
Pens
AIRPORT PICKUP
Exclusive Ticket
$2,800 USD
Yoga course fee (200HR)
PRIVATE accommodation
3 meals on full class days
Teaching material
WI-Fi / internet
T- Shirts
Bags
Note Pads
Pens
Regular Ticket
$2,400 USD
Yoga course fee (200HR)
SHARED accommodation
3 meals on full class days
Teaching material
WI-Fi / internet
T- Shirts
Bags
Note Pads
Pens
Economy Ticket
$1,000 USD
Yoga course fee (200HR)
Without Accommodation
Without meals
Teaching material
WI-Fi / internet
T- Shirts
Bags
Note Pads
Pens
300HR - Best Value
VIP Ticket
$3,300 USD
Yoga course fee (300HR)
PRIVATE accommodation
3 meals on full class days
Teaching material
WI-Fi / internet
T- Shirts
Bags
Note Pads
Pens
AIRPORT PICKUP
Exclusive Ticket
$3,200 USD
Yoga course fee (300HR)
PRIVATE accommodation
3 meals on full class days
Teaching material
WI-Fi / internet
T- Shirts
Bags
Note Pads
Pens
Regular Ticket
$3,000 USD
Yoga course fee (300HR)
SHARED accommodation
3 meals on full class days
Teaching material
WI-Fi / internet
T- Shirts
Bags
Note Pads
Pens
Economy Ticket
$1,500 USD
Yoga course fee (300HR)
Without Accommodation
Without meals
Teaching material
WI-Fi / internet
T- Shirts
Bags
Note Pads
Pens
100HR - More Economical
VIP Ticket
$1,250 USD
Yoga course fee (100HR)
PRIVATE accommodation
3 meals on full class days
Teaching material
WI-Fi / internet
T- Shirts
Bags
Note Pads
Pens
AIRPORT PICKUP
Exclusive Ticket
$1,150 ,- USD
Yoga course fee (100HR)
PRIVATE accommodation
3 meals on full class days
Teaching material
WI-Fi / internet
T- Shirts
Bags
Note Pads
Pens
Regular Ticket
$1,000 USD
Yoga course fee (100HR)
SHARED accommodation
3 meals on full class days
Teaching material
WI-Fi / internet
T- Shirts
Bags
Note Pads
Pens
Economy Ticket
$550 ,- USD
Yoga course fee (100HR)
Without Accommodation
Without meals
Teaching material
WI-Fi / internet
T- Shirts
Bags
Note Pads
Pens